EGCO Group announces first quarter performance of the year 2008 with a net profit of Baht 2,817 million, increasing by Baht 286 million or approximately 11 percent. The company will remain its domestic and foreign investment proportion at 70:30 and will introduce 3 new series of advertising campaign, encouraging new generations to care more about the environment as well as emphasizing its brand vision of "Energy for life."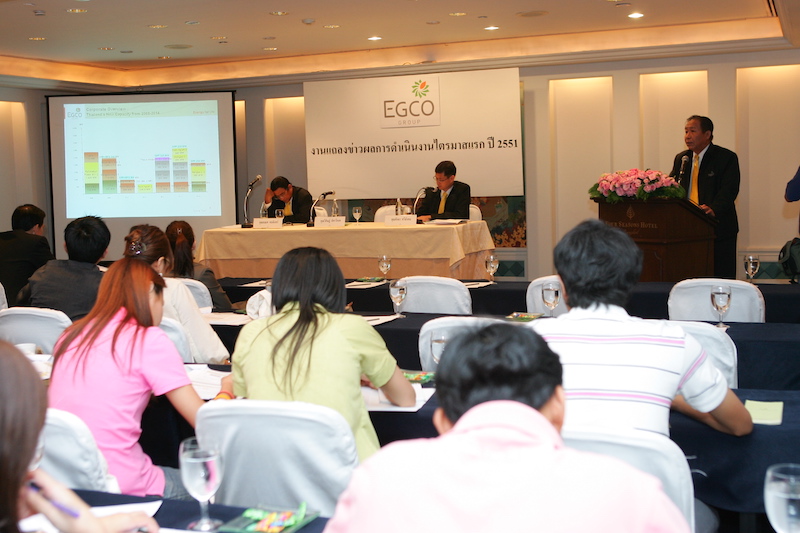 Mr.Visit Akaravinak, President of EGCO Group, revealed that "the performance of EGCO Group in the first quarter of 2008 has been growing according to target, with an increase of net profit of 11 percent comparing with the same period of last year. Currently, EGCO Group has a total of 3 projects in Laos People's Democratic Republic, one in construction process and two in negotiation process. Nam Theun 2 hydropower plant is 85 percent completed and should be able to commence commercial operations by the end of the year 2009. Nam Ou Hydropower Project is under negotiation with Sinohydro Corporation, China and the Lao Holding State Enterprise on the investment feasibility study. Initially, EGCO Group plans to invest 20 percent of the project along with 75 percent and 5 percent from China and Laos respectively. In case of Nam Theun 1 Hydropower project, the company is negotiating the PPA with EGAT, which expected to have conclusion within the end of this year. The construction will be started in the second quarter of the year 2009, and the revenue will be recognized by 2014 year end or the beginning of 2015."
"The company has also submitted a bidding document of USD 1.3 billion worth for Nghi Son 2 power plant project in Vietnam. The investment ratio of such a 1,200 MW coal-fired power plant between EGCO Group, One Energy Thailand and its Vietnamese business partner will be 25:60:15 respectively."
Moreover, EGCO Group is under a feasibility study in investing and developing renewable energy power plants within the country. For example, 35MW wind power plant project worth Baht 1.8 billion in the southern part of Thailand and 20MW waste to energy project worth 1.5 billion. Recently, the company has signed a memorandum of understanding with PTT and TRC to conduct a feasibility study in 45 MW small power producer (SPP) project in Ladkrabang Industrial Estate. The investment is worth about Baht 1 billion with EGCO Group, PTT, and TRC owning 35:35:30 percent respectively.
"EGCO Group will continue to increase investments in ASEAN markets such as Laos PDR, Vietnam, Cambodia, and Myanmar in order to ensure the future growth of the company." Mr.Visit finished
Mr.Sakda Sreesangkom, EGCO's Chief Financial Officer, revealed that the company's performance for the first three months of 2008 ended March 31 resulted in net profit of Baht 2,817 million or Baht 5.35 earnings per share, an increase of Baht 286 million or 11 percent comparing to last year first quarter net income of Baht 2,531 million. The increase is resulted from the recognition of revenue from BLCP power plant and Kaeng Khoi 2 power plant – Unit 1 and 2 achieving COD in May 2007 and February 2008 respectively."
In this same occasion, EGCO Group has introduced 3 new advertising campaign series including "Traffic Jam", "Hair Style", and "Acne" in order to strengthen the corporate image as being environmentally concerned. The campaign is aimed to encourage and boost up the new generations' concern on environmental issues by using the main concept idea of "Environmental problems are closer to us than we think." Mr.Wuthichai Sithipreedanant, ECCO's Senior Vice President of Corporate Communications, disclosed the corporate communications strategy that "this year, EGCO Group will expand the communications regarding environmental issues through television and radio commercials, print ad, special events and public relations other than social activities that the company has been committing in field of environmental protection for over 10 years. Today, EGCO Group is ready in both internal staff and external alliances, especially from over 1,700 of new generation youths network around the country who had participated in EGCO youth Camp (Thai forest conservation camp), to influence and encourage the power of new generations to passionately help protecting the environment. Believing that "a good start will lead to a successful journey", EGCO Group will emphasize in planting environmental protection ideology in the heart of the youths and the new generations, which is a good beginning for environmental protection."
Currently, EGCO Group is owned 25.41 percent by EGAT, 22.42% by One Energy Thailand, and 52.17 percent by Thai and foreign investors.
About EGCO Group
The Electricity Generating Public Company Limited or EGCO Group is the leading Thai integrated power company which provides electricity generation and comprehensive energy services. With the corporate philosophy to grow business over a long term, EGCO Group efficiently runs our electricity generating business while taking care of the environment and the society to maintain the balance between economics return and social and environment contribution which will lead to national sustainable development.
At present EGCO has a generation capacity of 3,876 MW from fourteen power plants