Ministry of Tourism and Sports of Thailand is the main organization that promotes and develops tourism, sports, and recreation to be a mechanism that drives economy and sustainable social development.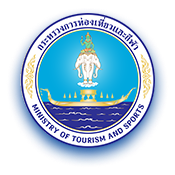 Miracle Thailand's "Thailand Impression" campaign highlights the achievement of world-class tourist development as a result of the department of tourism's effective, efficient, and impression-building initiatives. Additionally, this programme will improve Thailand's reputation as a tourist destination and highlight its strong and distinctive selling position as the region's true tourism powerhouse during the 2015 ASEAN Economic Community.
Market-Comms provided strategic communication in 2012 to delivering Brand Awareness and Knowledge for local visitors.
Ministry of Tourism and Sports of Thailand
BRAND COMMUNICATION
WHAT WE DO
Strategic communication campaign for local visitors.
KEY STRATEGIES
Promote the Highlight of the Thai destination

Create brand awareness.
TACTICS
Press release
Media Interview
Press tour

Press conference
PR Value > 20 Million baht per year

Potential viewers > 40 Miliion
Some Executions of the Campaigns