EGCO Group reports a consolidated net profit of Baht 4,257 million for the first six months of 2008, representing a decrease of Baht 754 million or 15% compared to the same period of 2007, which was caused mainly by a decrease of the share of profits from BLCP. Nevertheless, EGCO Group intends to move forward its development on both local and international IPP and SPP business.
Mr.Visit Akaravinak, President of EGCO Group, revealed that "EGCO Group's consolidated net profit for the first half of 2008 ended June 30, 2008 was Baht 4,257 million, representing a decrease of Baht 754 million or 15% compared to the same period of 2007 which was Baht 5,011 million. The net profit per share was 8.09 Baht. This was caused mainly by a decrease of the share of profits from joint ventures amounting to Baht 522 million, mostly due to the lower in BLCP's share of profit, which was caused by a decrease in electricity sales and a lower gain from foreign exchange rate.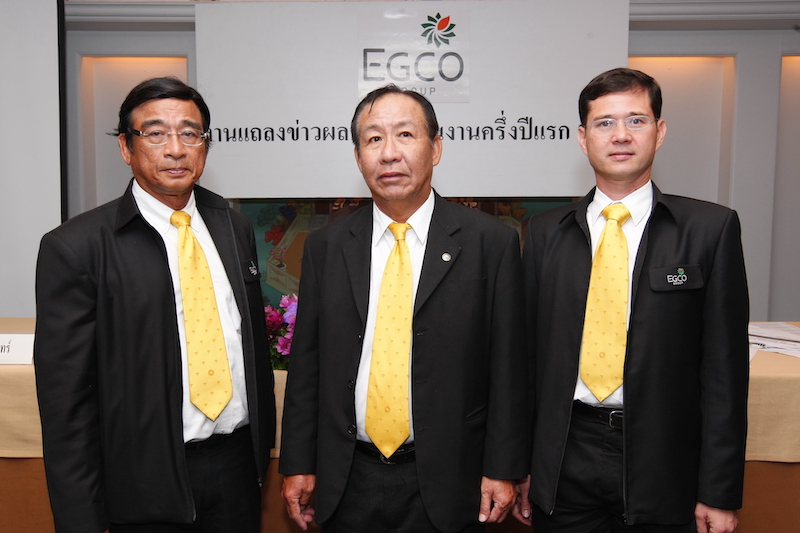 With respect to the progress of domestic project investment, Mr.Visit mentioned that "EGCO Group has continually studied and developed renewable energy projects. The wind power project is in the process of data analysis for consideration of the best alternative investment regarding the site capacity which is expected to reach a conclusion soon. The waste to energy project proposal has initially been agreed by the Phuket municipality and the project's proposal will be submitted to the cabinet for approval.
In addition, EGCO Group is also interested in investing more in small power producers (SPP). Recently, the company has signed a memorandum of understanding with PTT and TRC to conduct a feasibility study with the installed capacity of 45 MW in Ladkrabang Industrial Estate. The investment is worth about Baht 2 billion with EGCO Group, PTT, and TRC owning 35:35:30 percent, respectively.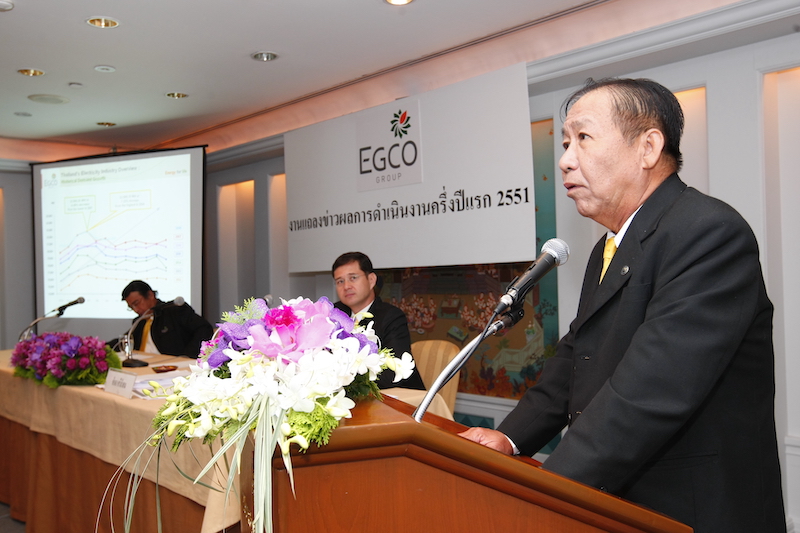 As for investments in ASEAN markets, EGCO Group continues to seek business opportunities with its partners. EGCO Group conducts feasibility studies in many projects, such as Nam Ou Hydropower Project in Laos PDR, Koh Kong in Cambodia, and Coal Power Plant in Philippines.
"EGCO Group focuses its investment on pursuing opportunities in power generation locally and internationally and also seeks to expand its business relating to the energy sector. We closely follow the changes in the energy sector in order to improve our business accordingly as well as to raise ROI for our shareholders. During the previous ASEAN Energy Forum, the Thai government's pro-active energy policy in seeking the ASEAN network partners has been met with positive responses. The company is confident that the energy investment atmosphere in Thailand will be more positive in the near future." Mr.Visit concluded.
About EGCO Group
The Electricity Generating Public Company Limited or EGCO Group is the leading Thai integrated power company which provides electricity generation and comprehensive energy services. With the corporate philosophy to grow business over a long term, EGCO Group efficiently runs our electricity generating business while taking care of the environment and the society to maintain the balance between economic return and social and environment contribution which will lead to national sustainable development.
Currently, EGCO Group is owned 25.41 percent by EGAT, 22.42% by OneEnergy Thailand, and 52.17 percent by Thai and foreign investors. At present EGCO has 12 operating plants with capacity totaling 3,826.5 MW.