Chulalongkorn University ready to open an urban agricultural learning center, Siam Green Sky, as a brand new landmark built at the top (7th floor) of the Siam Square One shopping center. As the largest rooftop garden in Thailand, the Siam Green Sky invites all Thai to do farming in the rice field every Wednesdays and Saturdays, joining the free seminar and shopping the clean products at Siam Green Market every 3rd weekeen of the month at Siam Square One from today onwards.
Siam Square One – May 23, 2015, Assoc. Prof. Gr. Cpt. Permyot Kosolbhand, Vice President of Chulalongkorn University, Mr. Boonsong Srisawangnate, Director of Chulalongkorn University Property Management and Ms. Kotchakorn Vora-akhom, landscape architect of Siam Green Sky, together with young agriculturists, celebrities, and professors such as Mr. Top-Pipat Apirakthanakorn (eco shop), Mr. Peng-SOngpol Janla (a day magazine) Ms. Nokkob-Nathawan Khamklai (Plearn Chaobaan group) and Prof. Dr. Prapas Tobtang and bangkokians up to 100 person do farming in the rice field on the top (7th Floor) of Siam Square One.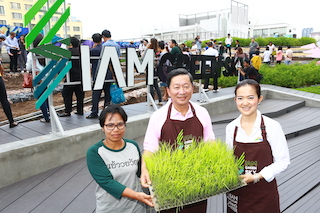 Assoc. Prof. Gr. Cpt. Permyot Kosolbhand, Vice President of Chulalongkorn University revealed that "Siam Green Sky" is a pilot project for the management of green areas both inside and outside of the building in cooperation with department of botany – faculty of science, department of landscape architecture and Chulalongkorn University Property Management. It perfectly reflects the vision of "Pillars of the Kingdom" in a tangible way and best satisfies the needs for knowledge of society and community, while responses to the environmental problems. Siam Green Sky is covered 2,000 sq.m on the rooftop of Siam Square One with budget of 3,500 baht per 1 sq.m.
Mr. Boonsong Srisawangnate, Director of Chulalongkorn University Property Management stated that "Siam Green Sky is located on the 7th floor, the top floor of Siam Square One. This urban rooftop garden is considered to be a complete integration in terms of landscape, art, landscape architecture, and education. It will be a natural classroom that is open to anyone who is interested in learning about vegetation, management, cultivation and environment. Most importantly, it will be a major water catchment for the area, helping to slow the flow of water in times of downpour, enhancing the drainage efficiency of the area, and at the same time, reducing the heat inside the building by 3-4 °C as well as the outside temperature around the green area by as much as 7°C. This decrease in temperature will significantly save annual electricity cost as much as 2,000 baht per square meter of plantation."
Assoc. Prof. Trirat Charutach, President Assistant of Chulalongkorn University and the architect of the project said that, "Siam Green Sky is designed and developed from the 3 main ideas which are learning center, agricultural awareness, and social networking. The learning center idea focuses on the dissemination of innovative agriculture, landscape management, urban ecology, and safe food production process. The agricultural awareness is meant to bring the local way of life of Thai farmers to the city so that urban people can learn and absorb their wisdom. We also put an emphasis on space management, fully-integrated self-sustenance, the creation of green social network, and renewable energy from solar panels. We expand our initiatives to nearby businesses and encourage them to take part in waste management by bringing their organic waste to us, and we will turn it into compost for the roof top garden.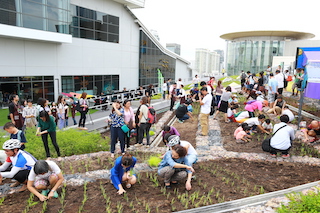 Ms. Kotchakorn Voraakhom, landscape architect of the project added that, "The concept of dividing the space into three parts consists of an innovative farming plot, multifarious plants plot, and garden plants plot. The innovative farming plot is the biggest part where the innovative cultivation with solar system will be exhibited. Visitors will have a chance to observe the process of making organic fertilizer from store waste, the cultivation of plants suitable for the areas, and the plantations of beautiful flower, edible plants, herb, and rice. The second part or the multifarious plants plot will feature various types of plants displayed in different sections such as the international plant section, and decorative edible plants which visitors can use as a guide to grow their own vegetables and edible plants.
The third part is the pretty and easy to grow plants which will cover plant species that are viable without the need for extra maintenance. In addition, outdoor artworks will be installed around the area, changing the surface of the ventilation pipes into painting canvas by famous street artists from the Silp San Siam project such as Mr. Patcharapol Tangruen (AlexFaceBkk) international famous artist and Ms. FaWalai and others."
Siam Green Sky is open to visitors every Wednesdays and Saturdays from 10:00 to 18:00 free of charge. There are 3 rounds of the visit, starting at the first round from 10:30 to 11:30, the second round from 14.30 to 15.30 and the final from 16:30 to 17:30. Moreover, every 3rd weekend of the month will be free workshops and Siam Green Market, where clean organic food from Green World Education Foundation, AgriNatureTwo Centre, KonKinKao Network, Memo Design & Make, Eco Shop Common and others will be served for Bangkokians in wallet-friendly prices right at the heart of Siam Square.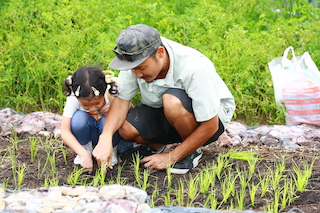 Special Event of June, 20, there is Free work shop that will be discuss about Vegie planting for Life by Kru Chang Cholprakalp Janrueng and Mr. Prince from hardcore organic group.
For those interested in visiting the Siam Green Sky as individuals, families or small groups of students, please make a tour reservation in advance at Siam Green Sky project management team Phone 099-001-8514 Email siamgreensky@gmail.com Website www.siamgreensky.com Facebook Fanpage: www.facebook.com/siamgreensky