Ministry of Commerce launched Thailand's Best Friends 2010 or TBF 2010 to swiftly restore Thai economy after the trauma of political crisis, highlighting Customer Relationship Management (CRM) strategy to attract over 150 international partners worldwide, re-establish confidence, and stimulate the economy.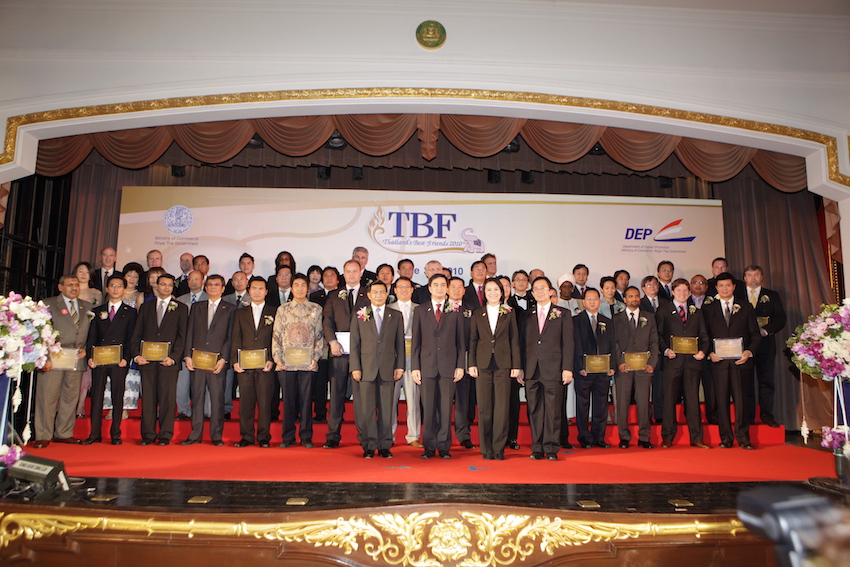 Mrs. Porntiva Nakasai, Minister of Commerce, revealed, "Thailand's Best Friends 2010 promotes amicable trading relationship between importers and exporters of Thai products while enhancing an opportunity to export Thai products and services to existing clientele or new potential clients, namely ASEAN, Japan, U.S.A. and E.U. as well as new clients with high purchasing power like Indochina and Burma, Hong Kong, Australia, Latin America, India, South Korea, Eastern Europe and Taiwan.  Moreover, this event will increase export volume and create positive image of Thailand.  With strong confidence, she forecasted that the goal of export this year remains at 14% or value of 0.173 trillion US dollar.  Especially when the export figures in the first four months of 2010 are disclosed, they are significantly high in every product category.  For instance, the export in major agriculture /agricultural industry grows in every product list in terms of volume and value, especially rubber, cassava, sugar as well as frozen, canned and processed food, such as frozen and processed shrimp, fruit and vegetable, frozen chicken and other processed food.  For major industrial products, the export has also improved in almost every list.  Products with over 20% export volume are electronic components, electric appliances, vehicles, construction materials, plastic beads and products, rubber products, publication, cosmetics, lens, furniture and gemstones, excluding gold.  As a consequence, despite the political calamity in Thailand in past April and May, but now it is to rapidly regain confidences international countries."

In consideration of participating partners' qualification, Mrs. Porntiva explained that Ministry of Commerce has selected top three exporters in each product category in 2009, covering fishery/livestock, agriculture, lifestyle, fashion, heavy industry and service. Each selected exporter proposed their top five clients to gain benefits from Thailand's Best Friends (TBF) Project. These benefits, lasting for two years, were offered exclusively for privileged partners such as, Fast Track for entering the immigration process at VVIP level when travel to Thailand, Hotline service at tel. 1169 for all emergency and non-emergency cases during stay in Thailand, other benefits as special discounts from luxury hotels and resorts, popular restaurants, spas, five-star fitness clubs, leading golf courses, hospitals and shops in leading shopping centers.
From the success in Thailand's Best Friends 2010 (TBF) between June 29 and July 2, 2010, the dominant importers from abroad receive a warm welcome and certificate from H.E. Mr. Abhisit Vejajiva, Prime Minister. They feel proud to order Thai products and develop stronger bond with Thailand, leading to their loyalty and constant order for Thai products, not competitors'. TBF 2010 will therefore be another event that serves the duty well."