Recently – N.C.C. Exhibition Organizer Co.,Ltd (NEO) today introduces to the public its Executive Director Fling Officer Kamolnai Chaixanien, who plays a vital role in taking the company into the international arena. The company also reveals its secrets of success for eight major events, announces the business's expansion.
"Nowadays the MICE (Meetings, Incentives, Conventions, and Exhibitions) industry greatly contributes to Thailand's economic development. This is reflected in government supports in the form of suitable policies and corresponding offices. As for NEO, we play more significant role towards the "E" part – i.e. exhibitions, trade shows – which drives Thailand's business growth both domestically and internationally, because exhibitions bring together buyers and sellers, creating opportunities for making acquaintances, negotiations and transactions face-to-face. Needless to say that, in the manner of conducting business, building good relationships is paramount," said Fling Officer Kamolnai.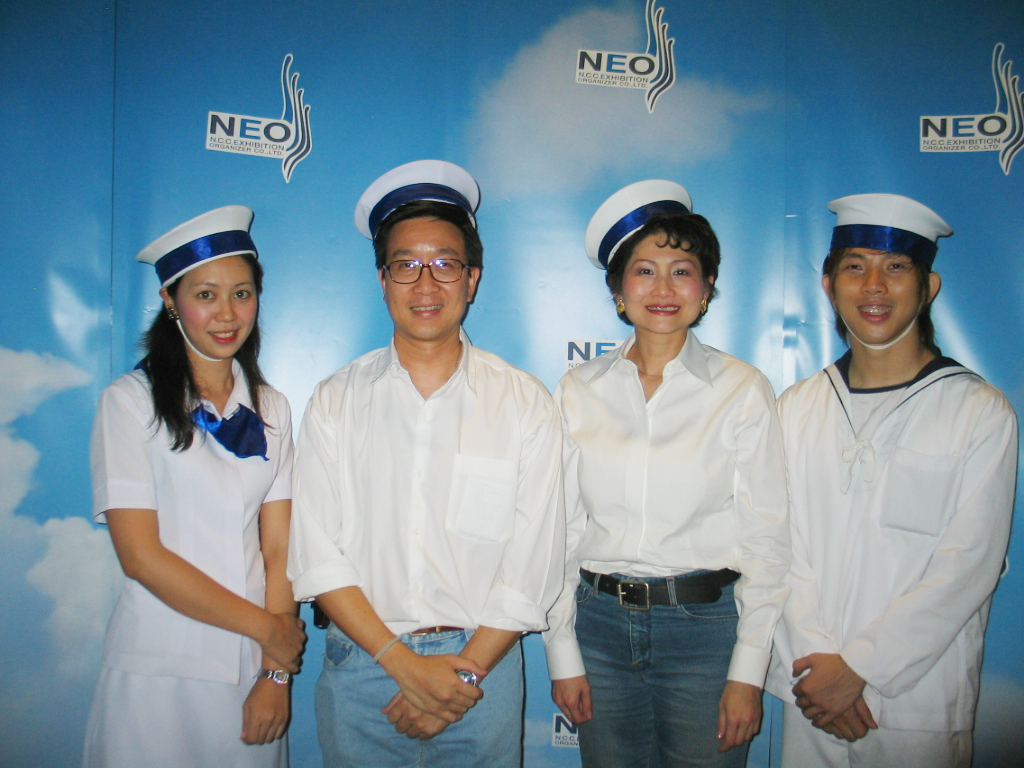 "Two years ago, we announced our aspiration to rank among Southeast Asia's top five exhibition organizers. Today I am pleased to declare that NEO has already achieved more than half of that goal. We are confident that in the next three years NEO's international shows, such as ILDEX (International Livestock and Dairy Expo) which is held in 3 leading agricultural-booming countries of Vietnam, India, and China creating the Triangle of Opportunities in Livestock and Dairy in the Region, will gain even greater successes and recognitions. Another challenge is to promote our domestic shows to become truly international events,"
"Meanwhile the six local shows which NEO organizes annually will continue to evolve to suit the market's needs. In addition, we seek to expand to other regions of the country, as impressive exhibition centers are beginning to emerge," he said.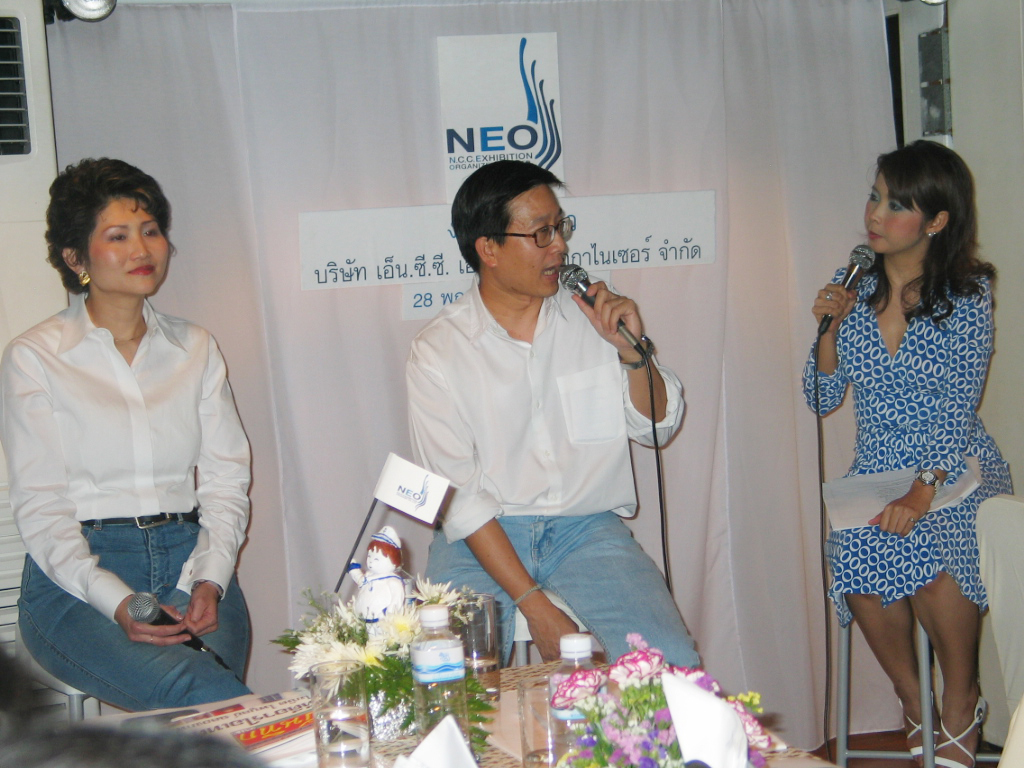 Fling Officer Kamolnai also shared NEO's secrets which continue to bring success to the company's eight events. "Deriving from hand-on experiences, NEO's strongest suit lies in our knowledge of the clients' businesses. This differentiates us from our competitors. Before putting together an event, we set ourselves to gain a complete understanding of the client's industry. For instance, before we organized the Wedding Fair, we had conducted a thorough study of the wedding business – where its sources are, where its products go, what other businesses it's connected to, as well as what's essential for a wedding from the consumers' points of view. As a result, NEO continues to deliver consistently successful events. Besides, the Wedding Fair 2008 will be our 15th year."
Highlighting the business plans for 2007, General Manager, Ms. Ladda Mongkolchaivivat said, "NEO has expanded to Beijing, China's capital and important economic base. We have incorporated a company called Beijing Hua Tai Exhibition Co., Ltd. (BHT) to 1) sell exhibition space in Beijing and other Chinese cities, 2) provide consultations and oversee trade missions, and 3) offer managerial and organizational services for trade fairs, exhibitions and other events."
"In China, NEO's advantage over our rivals is clear. While competitors only have the capacity to organize local shows, NEO has the expertise required for international-scale events. Our crowning achievement this year is the International Livestock and Dairy Expo (ILDEX), a close collaboration between NEO, BHT, and the Chinese Association of Animal Sciences and Veterinary Medicine (CAAV). This 8,000-square-meter expo, to be held in Beijing between October 10-12, 2007, will be China's biggest ever international-scale event to showcase livestock and dairy technological/environmental innovations, and associated merchandises including feeds – whether it's pig-, cattle- or poultry-related. Participants will be coming from countries such as Thailand, China, Singapore, Vietnam, the United States, Britain, Denmark and Germany. It will offer a perfect business opportunity for farmers and manufacturers to effectively expand their markets abroad," stated Ms. Ladda.
In addition to its business focuses, NEO also pays close attention to social development. To coincide with Thailand's bid to become ASEAN's leader by 2010, the company has created several social development programs for 2007 and allocated a 7-digit budget for the purpose. NEO has also designated 2007 "The Year of Education and Knowledge Development for Industrial Entrepreneurs and Communicators".
"NEO would like to bring the country's attention to the most important element of MICE. For NEO, the "E" of exhibitions and trade shows also signifies, firstly, Economic driver to promote Thailand's economic growth through international-scale trade fairs. Such events encourage the expansion of businesses and create more business opportunities nationally – the same way that the Wedding Fair has done for the wedding business. E also means, secondly, Economic value which tremendously adds to Thailand's economy. For example, VIV Asia 2007 earned the country, both directly and indirectly, more than four billion baht through the reservations of exhibition space, foreign participants' accommodation and tourism as well as the sales of Thai products. Thirdly, E also denotes Economic extension. As many of NEO's events, such as ILDEX, focus on expanding customer bases and markets abroad, they open up perfect opportunities for Thai businesses to grow, expand and build new alliances. This will benefit the country's economy as a whole in the end," concluded Fling Officer Kamolnai.
About NEO
N.C.C. Exhibition Organizer Co.,Ltd. or NEO – a subsidiary of N.C.C. Management & Development Co. Ltd. – is an organizer/manager of international-scale trade fairs, exhibitions and other events. It offers a full range of services from planning, marketing, and sales to public relations and evaluation. For 2007, eight major events are planned: the international-scale events are VIV Asia (7-9 March), and ILDEX (China: 10-12 October), and the national-scale shows are Thailand Travel and Dive Expo (24-27 May), Wedding Fair (31 May-3 Jun), Amazing Thailand Grand Sale (21-24 Jun), Pet Expo Thailand (2-5 Aug), Health, Beauty and Diet Festival (23-26 Aug), and Thailand Bestbuys (8-16 Dec).
NEO website: http://www.nccexhibition.com