By
admin
The 8 biggest HORECA wholesalers have officially opened their shops, ready to offer full services, products, equipment, and raw materials for hotels, restaurants, cafes, and catering industries, today at the HORECA Square@CW Tower, Ratchadaphisek Road.
Mrs. Ladda Mongkolchaivivat Managing Director of Asia HORECA revealed that HORECA Square, although not yet officially launched, has attracted attention from 8 major HORECA wholesalers – Inter Horeca, a wholesaler of restaurant supplies, hotel and banquet equipment of export quality and unique design, HomeMatt, a major manufacturer of mattresses in Thailand serving hotels and lodging operators for more than 30 years, Modus Hospitality, food and condiments supplier for restaurants and food companies, and Cleanatic, a supplier of cleaning products, cleaning liquid, electrical appliances, and maintenance services.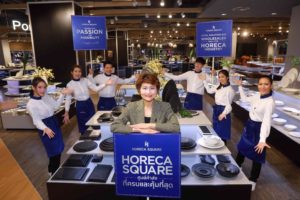 Among the big 8 are also members of the service wholesale group. Manopap provides service in design and decoration that meets international standards for hotels, lodging businesses, and tourist attractions either small, medium, or large scale. Clement Design sells ready-made dresses and designs costumes for all types of HORECA business employees so that they can deliver the best services while being appropriately and smartly dressed in durable and reasonably priced attire. ThinkPos offers equipment and software for time management, scheduling, billing, and more. Jet Travel & Tour serves in the field of tourism, both domestic and international, with international standards and professionalism for individual customers and organization/ corporate clients.
From September to October 2017, HORECA Square offers special promotions. When making purchase of 20,000 baht at any shop on the 5th floor, receive a 30% discount coupon. And exclusively in September only, make a 10,000 baht purchase, and receive a chance to win a 5,000 baht discount coupon with terms and conditions applied.
In addition, the HORECA Community is now open for member applications. Members will receive privileges and get a special gift in the month of birth, for example, 2 free seminar admissions, 20% discount on the 5th floor shopping, 10% discount on training sessions, 5% discount on the HORECA Business Center rentals, and free access to the HORECA Community area throughout the year. For more information, please call 061-416-2999 or 02-643-7691.
HORECA Square, the wholesale center of products and service for the hotel, restaurant, cafés, bakeries, and catering service industries, opens daily from 10.00 to 19.00. For more information, please visit www.horecasquare.com or https://www.facebook.com/horecasquare
About HORECA Square
HORECA Square, B2B Shopping Center is a comprehensive service center for SME and start up entrepreneurs in hotels, restaurants, cafes, bakeries and catering businesses. It is located on floor 3-5 with utility space of 12,000 square meters. The center is operated under the total solution concept or integrated services to meet all demands.
About CW Tower
CW Tower is a premium, innovative building with modern facilities and convenient location which are important factors for a strong business foundation. These advantages will be of great use in promoting and supporting entrepreneurs to conduct business effectively, create sustainable growth, and prepare for a network of national and international businesses. The building is located on Ratchadaphisek Road, Bangkok
Currently, the HORECA B2B Square Shopping Center and the C-ASEAN Learning Center and Convention are housed by two buildings. The first building which has 53 floors and the second one with 48 floors are located near the Thailand Cultural Center MRT station and Huay Kwang MRT station.