By
admin
The Thai society is adapting itself to the digital era and soon enough will be fully integrated both in terms of economy and industry. These rapid changes, high competition, and online access to enormous amounts of information have influenced the behaviors, ideas, and attitudes of young people and students. The Thailand 4.0 policy, which aims to lift Thailand out of the middle-income trap and into the high-income country status by means of economic and social innovative solutions, is also a result of the digital influence. In the right way, the digital power can be used to improve the quality of human resource and to boost the country's potential.
Education, therefore, is the crucial tool to enhance the quality of human resources in order to elevate the Thai economy and society to be able to stand side by side other leading countries. To achieve this end, Mahanakorn University of Technology hosted a MUTalk seminar under the topic 'Overcoming Educational Barriers: Active Learning Opens Door to Thailand 4.0' as a platform to exchange ideas and education guidelines about how to respond to the changing behavior of students, the demand from labor markets, and economic and industrial sectors that are moving toward the digital world.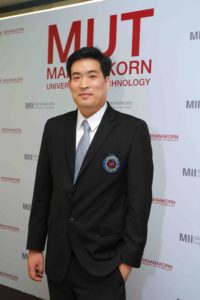 Asst. Prof. Dr. Panavy Pookaiyaudom, Vice President in Policy and Planning Department of Mahanakorn University of Technology, or MUT, revealed that "Today, school and university students whom the future and development of Thailand 4.0 depends on have a different lifestyle from their counterparts in the past. The educational reform is thus needed in terms of teaching styles, materials and contents which have to be more interesting and engaging, and positive environment that must foster the development of knowledge. The most important thing that must be done is to encourage 'Active Learning' in which teachers must be enthusiastic is delivering and adapting academic contents to best stimulate students' curiosity and creativity. To give an instance, at MUT, we name one of our chemistry courses 'Kitchen Chemistry' to make a seemingly boring academic subject that requires a lot of memories sound more relatable. By applying chemistry principles to cooking, students are able to have fun while studying. After we use the 'Active Learning' technique in 62 courses, we have found that, over 70% of our students have better academic results, so we plan to expand this new teaching concept to cover all fundamental subjects starting this semester.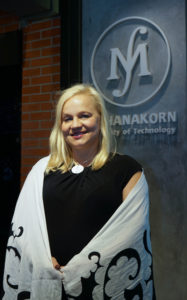 Mrs. Satu Suikkari Kleven, Finnish Ambassador to Bangkok, commented that Finland is one of the countries that are praised for its high quality education. Over 40% of Finnish citizens graduate with a bachelor's degree or higher. It also ranks as the world's most literate country in 2016. The key to achieve this educational success is that both public and private sectors must realize the importance of education. Each and every Finnish must have an equal access to quality education which focuses more on learning than memorizing. Above all, the values of educational institutes and educators must be highly appreciated as Finland believes that only efficient teachers can best assist and improve the learning process of children, kindle the curiosity in their mind and encourage them to ask more than just passively receive.
Furthermore, Mrs. Kleven mentioned the an emerging educational trend worldwide in that the classroom does not necessarily come in the form of a square room; it should be flexible enough to take any shape and location. It can even take place outdoor if the novelty can motivate interaction and exchanging of ideas. She also emphasized the importance of a large common space and facilities that serve diverse purposes in students' lives such as a health center or a youth center. These spaces should be designed to nurture creativity by means of lighting, music, or other energy-efficient technologies that are incorporated into the structure of the buildings or schools to inspire imagination and creative power among students.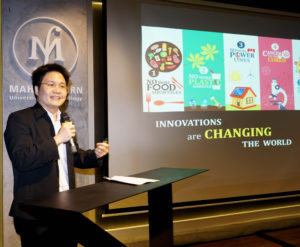 Mr. Chaiyatorn Limapornvanich, Acting Department Manager, Strategic Information Unit, mentioned that innovation has played an indispensable role in reshaping the world because many problems or difficult solutions can be overcome with innovations. An obvious example would be the way people work and communicate. In the past, people had to cram together in one room to work, but today people can work from anywhere and communicate via mobile phones, computers, or other platforms, no need for face-to-face conversation anymore. Therefore, the development of the education system must be conducive to creating innovators. Thailand must provide technologies and devices that help to form a wisdom-based society. Research and training centers must be established to produce graduates whose qualification and knowledge truly meet the needs of the modern market. Teachers who are innovative, knowledgeable, and creative are invaluable not only for education but also economy, society, and country in the long run.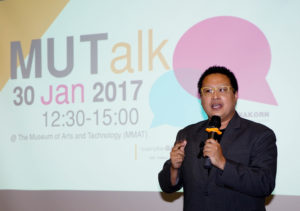 Mr. Tawan Wongsawan, Managing Director of Design on Television Co., Ltd., proposed a new learning principle called 'the science of fun.' The heart of this concept is teachers, who must dedicate themselves both heart and soul to teaching, and always adapt their delivery methods and encourage the exchanges of ideas between teachers and students. They must be able to help students to learn by doing, and understand that learning can take place anywhere. Sometimes, it is a good idea to take students outside in order to let them learn lessons that cannot be found in a classroom. New experiences will build understanding and inspiration in students to acquire more knowledge.
To reform Thailand's educational system and adapt for the 4.0 era in a sustainable and lasting way, we need the integration in many dimensions including educational policies from government, cooperation and support from both public and private institutions, human resource development for teachers who are the main driving force in youth development. All of these joined forces will help Thai students keep pace with the world and the demand in job markets. This will lead to the development of the country and human resource as a whole to prepare Thailand for new challenges in the future world.