By
admin
Tongkah Harbour Public Company Limited or Tongkah Harbour has appointed an authorized financial advisor to assist it in meeting the criteria that qualifies the company to relist on the Stock Exchange of Thailand (SET). Tongkah Harbour has successfully gone through business restructuring, launching a renewable energy business with a firm commitment to steer the company on a solid, sustainable growth path.
Mr. Wijit Jiemwijitkul, Chief Executive Officer and Chairman of the Executive Board, recently declared that Tongkah has appointed Discover Management Co., Ltd., the country's leading financial advisor, as the company's authorized consultant to streamline operations in order to meet particular criteria allowing the firm to qualify for a listing on the SET again.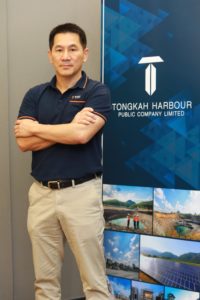 Discover Management will aggregate the company's data, business plans and feasibility of the company's projects, its property list as well as financial statements that will be used to prepare key documents for the proposed sale of securities. It will consequently coordinate with the Securities and Exchange Commission besides the SET. The decision on when the company can be relisted rests solely with the SET.
"The company has a strong commitment to consolidate its operations in order to meet the criteria and be qualified for a relisting on the SET," insisted Mr Wijit. "We have followed all measures, from filing a request to successfully withdraw from business rehabilitation, paying up all the 500 million baht in debt, to increasing capital to expand business and generating more income. We recently went in for business restructuring by investing in renewable energy.''
Tongkah Harbour has a sustainable, well-defined investment plan for 2-3 renewable energy projects. It believes in the potential of the electricity generation business that will create stable income in the long term and place the company on the road to profit. The firm aims to invest in the renewable energy business across a span of five years (2017-2021), having electricity generating capacity of 100 megawatts, with total investment estimated at 5 billion baht. It expects to earn an income of 1 billion baht.
Furthermore, it is involved in another profitable business such as mining. Since October 3, 2017, the company has been granted a renewal of its andesite mining concession in Sara Buri, which expired on May 23, 2009. The Ministry of Industry has extended the company's mining concession for 15 years, which will expire in 2024, for a plot of 88-3-81 rai – 142,324 square meters, or around 35 acres, according to the concession. The plot has initial andesite reserves of around 4.68 million tons. The company additionally possesses 700,000 tons of andesite for production, which will enable it to continue its mining business and create stable, substantial income because of the upsurge in demand for andesite due to the construction of public utilities and mega projects, which are much-needed basic infrastructure for the country.