By
admin
TCC Assets (Thailand) Co., Ltd – which established Asia HORECA Co., Ltd. – recently launched the exciting HORECA SQUARE @CW TOWER. HORECA SQUARE not only serves as a wholesale center of multifarious HORECA products and services, but also features a valuable training center and an intriguing HORECA community. This is the first of its kind in Thailand and the largest in ASEAN.
"HORECA SQUARE is a phenomenal real estate project under the management of TCC Assets (Thailand) Co., Ltd., which focuses on the businesses of hotels, restaurants, cafes and catering services. Known in short as HORECA, it offers unprecedented experiences of comprehensive services for businessmen in the real estate sector, Mr. Panote Sirivadhanabhakdi, Group Chief Executive Director, TCC Assets said.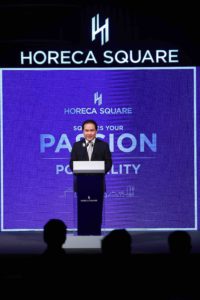 The project's strength comes from the fact that it is strategically situated in one of Bangkok's best commercial locations – Ratchadapisek Road, which is where TCC Assets manages several projects under the concepts of solidifying the business sector and linking Thailand's economy to ASEAN. These prime projects include C-Asean, CW TOWER and Street Ratchada projects.
"The launching of HORECA SQUARE today will undoubtedly transform the Ratchadapisek area into an ASEAN landmark, the first of its kind in Thailand, and attract foreign business operators to this significant point where they can negotiate successful business deals. The Square serves as a central platform for Thai entrepreneurs to showcase their products and services so they can ascend the world stage and spearhead Bangkok – and the country – into becoming ASEAN's business hub, enjoying sound economic growth on the Asian continent,'' he added.
"I have high expectations that HORECA SQUARE @CW TOWER will become the HORECA industry hub in Thailand and other ASEAN countries. It will also assist and guide HORECA business owners to sustainable growth and usher in prosperity to all associated with the project, whether they are tenants, owners, or business partners, and ultimately the country's economy," he concluded.
Managed by Mr. Panote, TCC Assets, with a commitment to comprehensive property development, holds 100% in Asia HORECA Company Limited or Asia HORECA. Its responsibility in the HORECA industry is to implement three business plans: 1) Run HORECA SQUARE @CW TOWER wholesale center; 2) manage HORECA ASIA trade exhibitions; and 3) manage the E-COMMERCE system for the HORECA industry.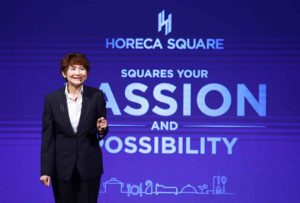 HORECA SQUARE @CW TOWER is firmly in the reins of Mrs. Ladda Mongkolchaiwivat, a leading B2B marketer of TCC group. She has more than 20 years of experience and currently assumes the managing director position at Asia HORECA Co., Ltd. together with a team of professionals to develop this wholesale center.
"The management of HORECA SQUARE @CW TOWER needs not only a strategic business plan for a wholesale center, but also a new concept and tactics," said Mrs. Ladda Mongkolchaivivat, Managing Director of Asia HORECA. "It will incorporate the concept of the B2B trade fair market and regularly host activities such as special events, educational seminars, domestic and international roadshows, as well as persuade target entrepreneurs in ASEAN countries to visit this wholesale center and negotiate business with domestic operators.
"HORECA SQUARE has gained cooperation from the public and private sectors, such as the Ministry of Tourism and Sports, the Department of Industrial Promotion under the Ministry of Industry, the Department of Foreign Trade at the Ministry of Commerce, commercial banks, and a host of other organizations that will become partners of the center as well. The Hotel Management Association, the Thai Restaurant Association, Dusit Thani College, and many travel business operators will join our activities and promotions to enhance the potential of the HORECA business in order to grow together," she added.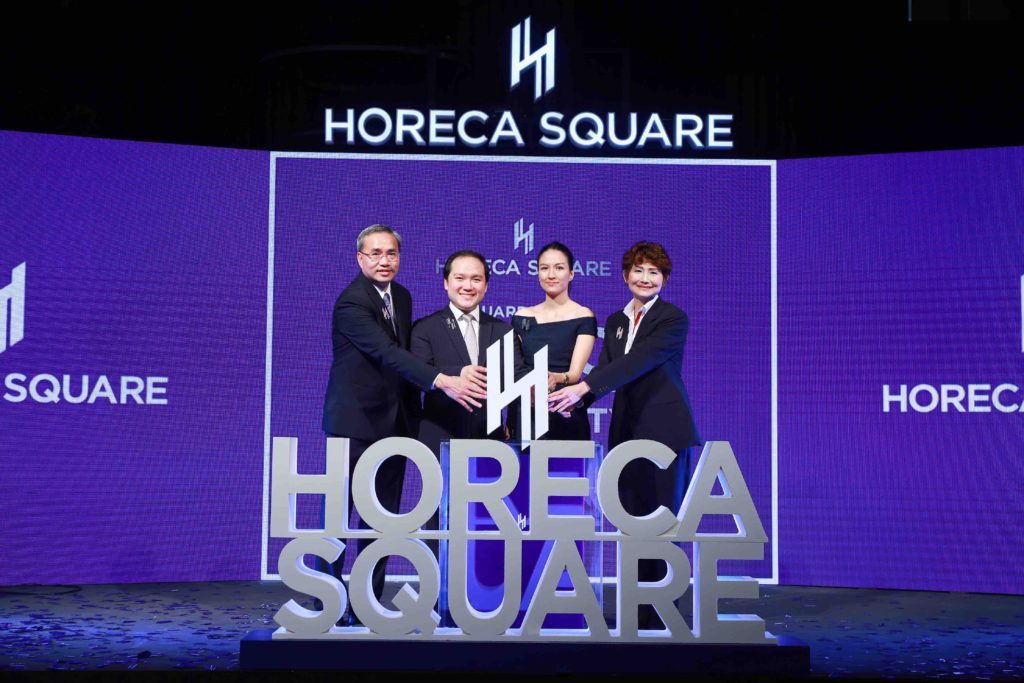 HORECA SQUARE @CW TOWER is located on floors 3-5 of CW Tower. Each floor is unique, with a variety of products and services provided. The 3rd floor showcases leading innovative HORECA products and services. The 4th floor features the "HORECA Community" and HORECA Business Center. The 5th floor is a wholesale distribution center, encompassing more than 10,000 products and services from around the world.
HORECA SQUARE is open daily from 10:00 to 19:00. Its target customers are HORECA entrepreneurs, condominium and real estate operators, as well as a young generation who want to start a business.
"These functions ensure HORECA SQUARE @CW TOWER will effortlessly achieve its goals while uniting HORECA operators in all segments – hotels, restaurants, cafes, bakeries, and catering services – so that we are able to compete and grow sustainably," concluded Mrs. Ladda.
For more information, feel free to contact HORECA SQAURE at 02-643-7691 or 
via email horecasquare@asiahoreca.co.th or 
visit https://www.facebook.com/horecasquare and www.horecasquare.com.
About HORECA SQUARE
HORECA Square B2B Shopping Center is a comprehensive service center for SMEs and startup entrepreneurs in hotels, restaurants, cafes, bakeries and catering businesses. It is located on floors 3-5 with utility space of 12,000 square meters. The center is operated under the total solution concept or integrated services to meet all demands.
About CW Tower
CW Tower is a state-of-the-art, innovative, premium building well-equipped with a variety of amenities. It will serve as a business center to promote and support entrepreneurs so they can run their businesses efficiently, leading to sustainable growth and strong national and international business networks. The building is located on Ratchadapisek Road, Bangkok.
The building currently houses the HORECA SQUARE wholesale center, the learning and convention center C-Asean, and two office buildings, one of which is 53 storeys high while the other is 48 storeys high. It is located near the Thailand Cultural Center MRT station and the Huai Khwang MRT Station.
About TCC Assets (Thailand) Co., Ltd.
TCC Assets (Thailand) is an investment holding and real estate company. Its portfolio includes residential, commercial, hospitality and industrial asset classes spanning three major sectors – real estate, hospitality and services, and technologies.
Its investment includes One Bangkok Project, Samyan MitrTown Project, The Street Project, The Queen Sirikit National Convention Center, TCC Technology and several world-class golf courses.