Betagro Group is celebrating the success of S-Pure, a fresh chicken meat brand that offers high-quality and antibiotic-free products, on the occasion of receiving the world's first NSF Raised Without Antibiotics Certificate. Earning NSF certification, the brand has set a new standard for Thailand's chicken meat production industry that meets the needs of today's consumers, who are increasingly concerned about their long-term health in addition to product quality and taste.
"We attach great and continuous importance to food quality and safety," said Vasit Taepaisitphongse, president of Betagro Group. "For the S-Pure brand in particular, we have been developing an integrated branding approach for more than a decade, covering everything from selecting healthy breeds of chicken that provide juicy and tender meat and raising them in closed-system farming to prevent against diseases and parasites, with attentive care by veterinarians and the use of cereals and probiotics as ingredients in feed. Besides, no antibiotics, hormones and growth stimulants are used. Moreover, our meat processing and butchering work for fresh chicken and frozen products are fully compliant with internationally recognized standards.
S-Pure, a premium brand of Betagro is the world's first chicken manufacturer receiving the "Raised Without Antibiotics" certification by NSF International in 2016. As an independent, accredited organization for public health and the environment, NSF International develop standards, and test and certify products and systems for food, drinking water and consumer product industries.
He added, "This NSF certification provides consumers with assurance that S-Pure branded chicken meat products they purchase are of the greatest quality, and have been produced without exposure to antibiotics from birth to delivery to consumers. We are the world's first manufacturer to be recognized internationally with this certification thanks to our chicken raising system that is entirely compliant to applicable standards to ensure all products are free from antibiotics that may cause health problems in the future. With a commitment to better health and sustainable welfare of consumers, we have successfully set a new standard for Thailand's chicken meat production. NSF's Raised Without Antibiotics mark will appear on our product packaging, including fresh chicken meat, frozen chicken meat and cooked chicken meals under the S-Pure brand for both domestic distribution and export."
According to a research study on today's consumer behaviors, it is found that people are increasingly concerned about their health and, as a result, attach a great deal of importance to choosing and consumption of high-quality and safe food products for better health and long-term well-being of themselves and their love ones.
Domestically, S-Pure currently has a 90 percent share in the premium fresh meat market. The brand remains focused on expanding distribution channels to seamlessly cover larger areas, both in key cities and tourist destinations, through major retailers such as Gourmet Market, Home Fresh Mart, Central Food Hall, Tops Market and Villa Market.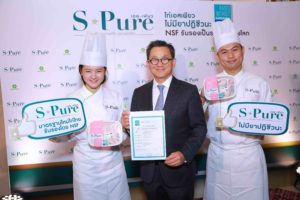 The Group also plans to launch a new TVC, which is named "S-Pure Chicken: The first NSF certified" to educate and generate better understanding and greater awareness of the consumption of high-quality and antibiotic-free chicken meat that is NSF certified. The new TVC will be synchronously broadcast nationwide on 15 May onward.
Export markets, especially the EU, Japan and the Middle East are very strict about the quality standard of chicken meat products. They perform regular food safety inspections and detection of undesirable substances and residues in food. As a result, chicken meat products from Betagro Group has gained competitive advantages in terms of manufacturing efficiency, resources and inputs, production standards and technology, which enable the Group to better respond to the market needs. It expects to export by 77,000 tons or up 10% from the previous year. At the same time, the Group is gearing up to expand its wholesale and retail opportunities in Singapore, Hong Kong and Scandinavian countries.
Additionally, S-Pure chicken meat has obtained many international quality standard certifications, including GMP, HACCP, ISO9001:2015, ISO14001:2015, TIS18001:2010, ISO/IEC17025:2005, BRC Issue7 and HALAL as well as traceability ensured, for instance.