By
admin
HORECA Square @CW Tower sets sales target of 200 million baht, 
hoping to boost HORECA segment by 10%, and partners up with TRN 
to provide knowledge through 50 courses in the "Survive and Flourish as a Millionaire" curriculum.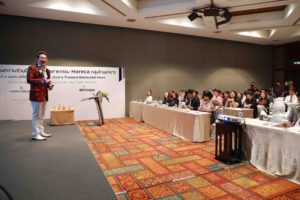 Asia HORECA Limited, or Asia HORECA, signed an agreement, partnering up with the Thai Restaurant News, or TRN, to form a knowledge base of the restaurant business and provide experience for interested entrepreneurs by organizing free 50 courses on how to stimulate revenues. HORECA Square sets a target of 200 million baht turnover in 2017, expecting at least 10% growth in the HORECA business, both SMEs and start-ups. In addition. the HORECA Square @CW Tower, the B2B wholesale store for hotels, restaurants, coffee shops, bakeries, and catering services, is scheduled to open this May.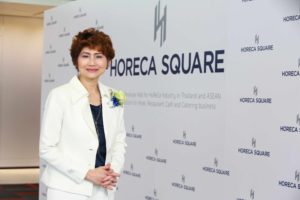 Mrs. Ladda Mongkolchaivivat, Managing Director of Asia Horeca Co.,Ltd, stated that the government is determined to reform and drive Thailand's economy forward with Thailand 4.0 policy, lifting the status of the nation from the middle-income economy to high-income economy, and changing the economic model from "do more, earn less" into "do less, earn more" by adopting innovation and creativity. The new policy is hoped to solve problems that many start-up entrepreneurs are facing as they work hard to develop new business but fail. A new research(CBinsight) found that 75-90% of start-up businesses fail for three reasons: 1) Products and services do not match market demands due to the lack of quality, market researches, and good marketing plans. 2) Businesses lack working capital, and the fixed costs are higher than the revenues gained. 3) Businesses lack teamwork, absence of consultants, and network partners.
To make businesses, particularly in the HORECA segment, grow sustainably, entrepreneurs are advised to embrace the HORECA 4.0 business strategies which emphasize four aspects: 1) increasing the value of products and services in consumer's perspective, from attractive packaging, CSR, environmentally friendly production, to excellent after-sales service 2) recruiting knowledgeable and service-minded teams 3) employing innovative technology to reduce administrative procedures, costs, errors, and so on 3) building nonprofit organizations or networks. In this case, entrepreneurs should not regard one another as rivals; instead, they can grow and learn together to create their own uniqueness and difference, contributing to a stronger business segment with higher bargaining power and more opportunities.
For the year 2017, Asia HORECA positions the HORECA Square, the wholesale center for HORECA entrepreneurs, as a forum for trade negotiations in both the B2B system and the business matching system, and as a business consultant in addition to a comprehensive source of products and services for Horeca business.
The cooperation with the Thailand Restaurant News further ensures that once starting the operation in May, the HORECA Square will be able to generate a turnover of up to 200 million baht by the end of the year as well as boosting the growth of the HORECA SMEs and start-ups by at least 10%.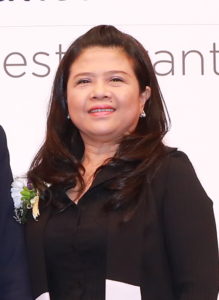 Ms. Chattaporn Yoelao, Managing Director and Executive Director, Thailand Restaurant News Magazine or TRN added that one of the most popular business models among young people is the restaurant business, whether coffee shops or bakeries. According to a new restaurant survey conducted by the Thai Restaurant Association, each year only 50% of new entrepreneurs can survive while the other half perish. The ratio of survival and failure is currently 50:50. Those that fail lack experiences, knowledge in the field of business management, and moreover, the funds to be circulated in the business. As a result, Thai restaurant operators in the era of digital economy, or Thailand 4.0, will need to focus on the development of knowledge and the creation of business networks.
16 experiences in restaurant business, TRN schemes the knowledge platform for entrepreneur under the concept of knowledge base society and focuses on 10 major trends; healthy foods, food for elderly, new fusion foods, ready to eat food, halal food, functional foods and drinks, delivery foods, foods in digital trends, food for Generation Z, local foods to hygiene foods; which have been designed and developed seminars and training courses for restaurants' entrepreneurs.
To approach the new era with confidence, Asia HORECA will provide training for restaurant business operators in 4 areas which are the design and development of menus, the business administrations, the marketing communications, and laws and taxes. These topics will be incorporated into a comprehensive training for restaurant operators so that they can "survive and flourish as a millionaire" The training consists of 50 courses and will open all year round, free of charge limited to HORECA Square customers only.
HORECA Square is located on floors 3-5 of the CW Tower on Ratchadapisek Road. CW Tower is a premium and modern building with the area of ​​12,000 square meters, over 90% of which have been rented out already. The functional space can be divided into the exhibition and activity zone, the conference and business development zone, the business matching zone, and the product distribution zone which can accommodate electrical products and appliances for hotels, restaurants, cafes, and catering businesses.
For more information, please contact Mr. Adesorn Guntamuanglee, project director, Tel. 089 955 4463 email adesorn.gu@asiahoreca.co.th and www.horecasquare.com or www.facebook.com/horecasquare
About HORECA Square
HORECA Square B2B Shopping Center is a comprehensive service center for SME and start up entrepreneurs in hotels, restaurants, cafes, bakeries and catering businesses. It is located on floor 3-5 with utility space of 12,000 square meters. The center is operated under the total solution concept or integrated services to meet all demands.
About CW Tower
CW Tower is a premium, innovative building with modern facilities and convenient location which are important factors for a strong business foundation. These advantages will be of great use in promoting and supporting entrepreneurs to conduct business effectively, create sustainable growth, and prepare for a network of national and international businesses. The building is located on Ratchadaphisek Road, Bangkok
Currently, the HORECA B2B Square Shopping Center and the C-ASEAN Learning Center and Convention are housed by two buildings. The first building which has 53 floors and the second one with 48 floors are located near the Thailand Cultural Center MRT station and Huay Kwang MRT station.